Happy Pride Month! *waves rainbow

flag*
I considered doing a month-long tribute to all things LGBTQ+ but since I thought about it toward the end of May and knew I had other posts scheduled, I nixed that idea. BUT I will be doing several features, including book reviews, lists of my favourite LGBTQ+ books, and discussion posts throughout the month. I've also written a few Pride Month guest posts for other bloggers, which I'm really excited about, so I'll share those links as they go live. Please note, if you'd like me to do a guest post or interview for you (topic ideas and questions provided by you) for Pride Month (or just in general - I'm open to them anytime, on any subject), I'm more than happy to do that. You can find my contact info on my About Me page.
For now, I'm

going t

o share some of the books I hope to read this month, as well as some TV shows and movies I plan to watch. The TBR is my general LGBTQ+ TBR; I'm trying to be less rigid about creating monthly TBRs, but these are the books I'll be choosing from (although I'm always open to new ones and actually hope to find new ones throughout the month). I'm

aimi

ng to read at least one a week

from this list.
LGBTQ+ TBR
The other day I was going through my Netflix to-watch list and noticed all the LGBTQ+ shows and movies I've added. I decided June would be the perfect time to finally watch them. I've never really done movie or TV reviews, but I might do short reviews for these as I watch them.
To Be Watched
Naomi and Ely's No Kiss List (movie)
And finally, for anyone looking for a f/f ro

mance, I have one!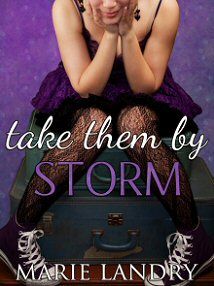 Please note, despite being the third book in a series, the Angel Island series is a companion series, and Take Them by Storm CAN be read as a standalone. I think a lot of people pass it up because of that #3 on the end of the subtitle, but I promise you it

can be read on its own.
What are some of your favourite LGBTQ+ books, movies, and TV shows? What will you be reading this month? Any books on my list you think I should bump up and read sooner than later? Any recommendations for books, movies, or TV shows?