Today's the day! WAITING FOR THE STORM is now officially out in the world. *happy dances while

popping open champagne and handing out cupcakes*
I'd like to tell you all a bit about this book. As some of you know, it's my third novel, and a return to contemporary YA after a little side trip into chick lit with my last book. I wrote WAITING FOR THE STORM last summer. Little bits and pieces of it had been floating around in my mind, and all of a sudden it came together with perfect clarity, and when I sat down, the words poured

out of

me. It took me exactly three weeks to write the first draft of this book. It was the easiest - and the hardest - book I'd ever written. It left me emotionally drained, but also satisfied, because I knew it was the best thing I had written yet.
My beloved Grama died a little less than a year before I wrote this book, and the grief was almost crippling. I'd experienced grief before - if you've read BLUE SKY DAYS, you might know that my dad died of leukemia when I was ten - but this...this was all-consuming. My Grama was one of my best friends, and losing her was like losing a part of myself. She was my biggest fan and biggest supporter, so I took that grief and turned it into something positive: a story that I poured my heart and soul into, and that I hoped would touch other people.
I love this book, and I am so proud of it. I sincerely hope that there will be many people who are willing to open their hearts to Charlotte's story and to feel her sorrow and her fears, but also her hopes, dreams, and triumphs.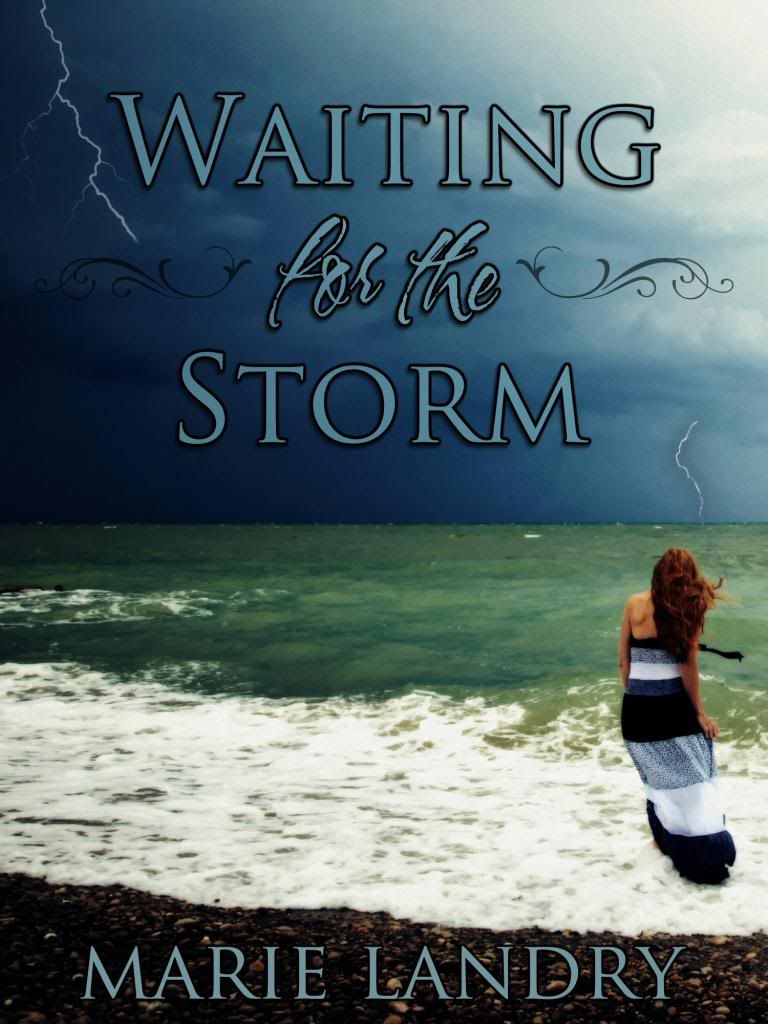 Charlotte O'Dell knows this summer is going to suck. Her beloved mother just died, her sister hates her, and her dad has completely checked out. Fulfilling her mother's final wish, the family heads to Angel Island for the summer to stay in a beach house her mother once loved.

After a year of being shut away taking care of her mother, Charlotte is numb and practically afraid of her own shadow; she hopes going to the island will give her the time and space she needs to begin healing, and an opportunity to bring her family back together. When she meets her mysterious neighbor, Ezra, it doesn't take long for Charlotte to confess the issues she's developed. Ezra begins giving Charlotte assignments to get over her fears, and although she accepts his tasks, all she really wants is to be with him. When she's with Ezra, she's able to forget the hollow ache in her heart and the fact that her family is falling apart. But Ezra has secrets…

Can Charlotte pull what's left of her family together, mend her broken heart, and allow herself to fall for Ezra? Or is it all just a storm waiting to happen?
To celebrate the official release of WAITING FOR THE STORM, I'm having a giveaway. I had originally intended to do two small-ish giveaways - one for reviewers, and another for everyone else - but decided to combine them and make it one big giveaway. I'll be doing more in the coming weeks and months, so if you don't win this time keep an eye out for another giveaway!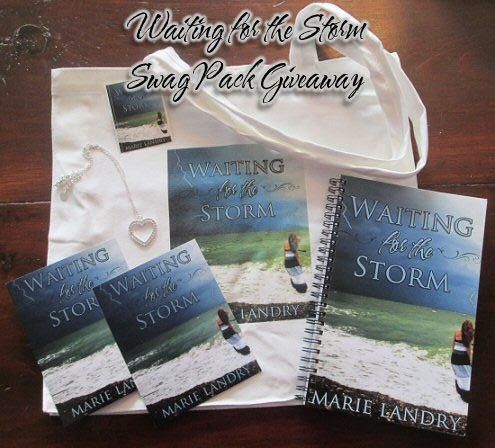 WAITING FOR THE STORM tote bag
2 signed WAITING FOR THE STORM postcards
WAITING FOR THE STORM sticker
WAITING FOR THE STORM notebook
Charlotte's heart necklace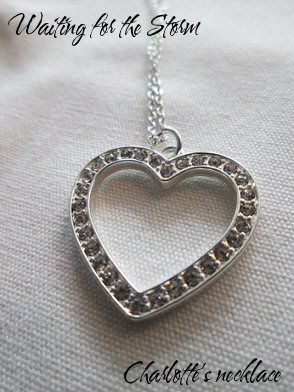 A better view of Charlotte's necklace
*Open internationally
*There are a ton of ways to enter - you can do as many or as few of the entries as you like
*Must be 16 years old or have parental permission to enter
*Winner will be contacted via email and will have 48 hours to respond before another winner is chos

en
*Please note, if you're writing a review, they do not need to be positive to quali

fy

for the giveaway. Naturally I hope you enjoy the book, but I understand that everyone is different, and we're all entitled to our opinions, whatever they may be. I want honest reviews, whether you loved it or hated it.