Something in the Air hits virtual bookshelves today!
I'm so excited that Rose and Declan's story is finally out in the world. This book has been a long time coming. I started writing it in the summer of 2013 and got stuck, so I decided to set it aside for awhile. 'A while' turned into almost two years, during which I wrote and published several other books. When I finally went back to Something in the Air, I had an amazing critique partner who helped me get through the issues I was having with the story so I could finally finish. After over two years of carrying Rose, Declan, and the other characters in my mind, this book feels like a labour of love. I really do love this story about self-discovery, friendship, love, and following your dreams, and I hope you'll love it, too!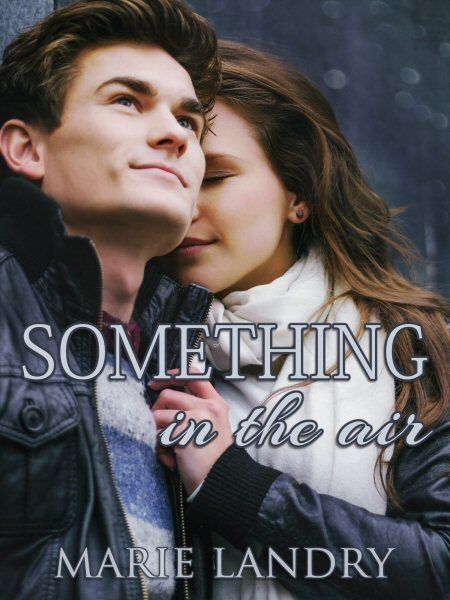 When Rose Morgan put off her college plans to help her mother through a difficult time, she thought it would just be a bump in the road of her journey. She got a job to help pay the bills and started picking up the slack at home. But three years later, her bumpy ride hasn't smoothed out yet, and Rose feels stuck. She's working at a job she hates and living with a manipulative mother. She's tired of feeling like her life has stalled, tired of the resentment and anger building inside her with each passing day.

Then Declan Connolly appears in her life, and even though the hot Irishman is seriously tempting, Rose is determined not to let him in. She's afraid to suck anyone into her bizarre life, especially someone who seems too charming for his own good. She soon learns there's more to Declan than his sexy accent and charismatic personality, though. He's a good man, and he wants Rose in his life, baggage and all. He's got his own, and he isn't scared away like she originally feared he would be.

Everything in Rose's life is changing quickly. It's finally her time--time to figure out what she wants and what her future holds. Time to get swept off her feet and not fight it. But when her plans might take her away from all the amazing new things in her life, including Declan, Rose has to make a choice. Is she willing to chase her dreams, even if it means letting go of love?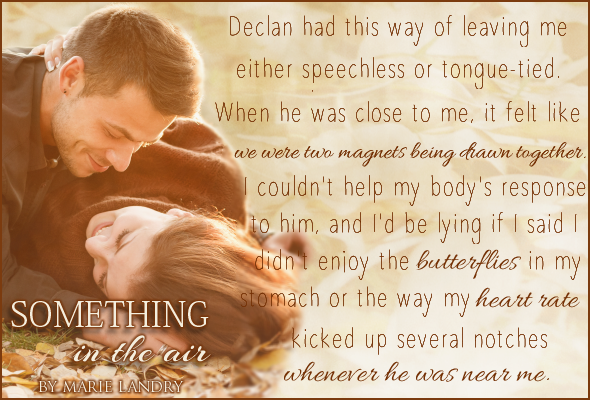 The Something in the Air release week book blitz, hosted by YA Bound Book Tours, started yesterday. The blitz includes a special giveaway with goodies related to the book. You can check out the main blitz post and enter the giveaway here.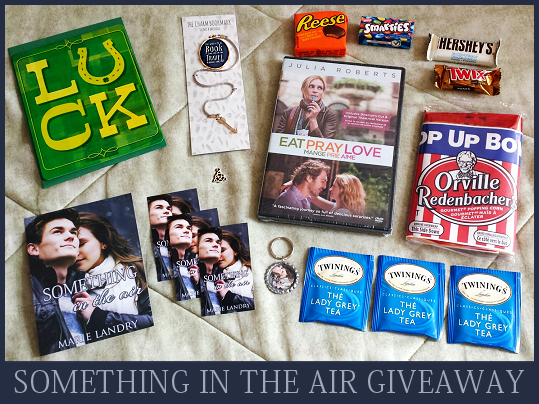 Annnnd I have another giveaway! Want to win a Something in the Air swag pack that includes a signed postcard, some mini bookmarks, a bottle cap charm (made by Jessica Sankiewicz - aka my bestie! - at Impulsivities), and a Celtic knot charm? Enter below! Open internationally.
a Rafflecopter giveaway
Thank you so much to everyone who has helped me get here, whether it's by reading early drafts, cheering me on while writing, leaving comments on the blog, buying my books, reading and reviewing ARCs...it all matters, it all means the world to me, and I'm so grateful.