Three years ago today, I published my first novel, Blue Sky Days.
Saying that feels surreal. The last three years have been a roller coaster. Being a published author has been my lifelong dream, and I still can't believe that dream came true.
This book, and getting it published, was a labour of love. I wrote the original draft when I was in my early twenties. I'd written other books, but this one was my favourite - it was the one I was proudest of. I sent it to a local publisher, who rejected it (thank god), and then I set it aside for about seven years. I wrote other stories in the meantime, and eventually started writing with a partner. We wrote a cozy mystery novel together, and started querying agents, but no one was interested. We talked about self-publishing, but it had a horrible reputation at the time, so we dismissed that idea pretty quickly.
Shortly after we parted ways as writing partners, I started writing on my own again. I dug out Blue Sky Days, reread it, and fell back in love with it. I did some research on self-publishing, and discovered it was becoming what appeared to be a viable option. I knew I could go through the process of querying again, but I wanted my story out in the world. I wanted people to read it, I wanted to touch people. I spent months researching self-publishing, reading countless articles and blogs, and finally decided it was the route I wanted to take. I spent several more months revising and polishing Blue Sky Days, having people read it and give feedback, then I sent it to an editor. I planned to publish it in September of 2011, but between my editor missing my deadline, and my beloved Grama's death, I decided to push the publication date back and be a 2012 debut author.
The rest, as they say, is history. In the last three years, I've written and published more books, I've made amazing friends who range from fellow authors to bloggers to readers, and I've learned so much. It hasn't always been easy, but I haven't regretted my decision for a minute.
Thank you to all the people who have supported me over the last three years, either by buying my books, reading them, reviewing them, reading my blog, chatting with me on Twitter and Facebook, or cheering me on while I'm writing. Your support and encouragement keeps me going and means so much to me.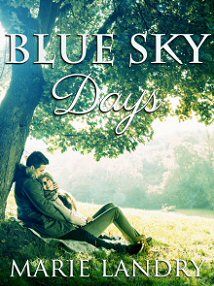 Emma Ward has always been the type of girl to approach life with a plan, but at nineteen, she's drifting aimlessly. She's spent so long trying to be perfect, and now she doesn't have an identity beyond that. Desperate for a change, Emma jumps at the chance to leave Toronto and move in with her free-spirited Aunt Daisy in a town that makes Emma feel like she's stepped back in time.


Immediately at home in Riverview, Emma begins to bloom for the first time in her life. When she meets handsome and charming Nicholas Shaw, everything changes. Nicholas is old-fashioned, sexy, and believes in living life to the fullest. Soon Emma is doing things the old Emma never would have done, like jumping in rivers, or picking berries in the rain. She steps outside her comfort zone and falls in love for the first time. Between Daisy and Nicholas, Emma feels like she belongs somewhere for the first time in her life, and realizes you don't always need a plan—sometimes life steers you where you're meant to be.

Life is a wonderful string of blue sky days, until a sudden life-changing event shakes Emma to her core. Now it's time for her to help Nicholas the way he's helped her. Emma will have to use her new-found strength, and discover along the way if love really is enough to get you through.