I'm going to tell you guys something that isn't easy for me to admit. WAITING FOR THE STORM, my third novel, isn't doing so well sales-wise. The few reviews that have come in have been mostly amazing, and all my beta readers loved the book. Most people who have read my other two books agree that WAITING FOR THE STORM is my best one. I think it's my best work. I feel like I've grown a lot as a writer and I'm incredibly proud of this novel. I love Charlotte and Ezra and it's breaking my heart that so few people are experiencing their story.
I'm so incredibly grateful to all the people who have shown support and encouragement over the last year and a half since I published BLUE SKY DAYS. I've met some incredible people, and I've even been lucky enough to make some wonderful friends. I appreciate every person who buys my books (or requests them) and takes the time to review them on their blog, GoodReads, Amazon, Barnes & Noble, etc. Being an indie author is something I love, but I don't have tons of money to spend on advertising, and I don't have a team of people whose job it is to promote my books. I hate asking for help, even though I know the blogging community is generous and will often give help while expecting absolutely nothing return.
But...I'm going to ask for help. I need it, and Charlotte and Ezra need it. Besides needing your help, I want to show my appreciation to all the people who have bought my books, reviewed them, hosted me for features, or helped spread the word in any way. How am I going to do that, you ask? With my biggest giveaway EVER. What can you win? Well, there will be TWO winners - one person will win a $25 Amazon gift card and a second person will win $25USD PayPal cash (or if you don't have PayPal, you can choose $25 worth of books from The Book Depository as long as they ship to you). AND if by some miracle I can reach 50 reviews of WAITING FOR THE STORM on Amazon before this giveaway is over, I'll throw in another $25 Amazon gift card - that's THREE chances to win!
Charlotte O'Dell knows this summer is going to suck. Her beloved mother just died, her sister hates her, and her dad has completely checked out. Fulfilling her mother's final wish, the family heads to Angel Island for the summer to stay in a beach house her mother once loved.

After a year of being shut away taking care of her mother, Charlotte is numb and practically afraid of her own shadow; she hopes going to the island will give her the time and space she needs to begin healing, and an opportunity to bring her family back together. When she meets her mysterious neighbor, Ezra, it doesn't take long for Charlotte to confess the issues she's developed. Ezra begins giving Charlotte assignments to get over her fears, and although she accepts his tasks, all she really wants is to be with him. When she's with Ezra, she's able to forget the hollow ache in her heart and the fact that her family is falling apart. But Ezra has secrets…

Can Charlotte pull what's left of her family together, mend her broken heart, and allow herself to fall for Ezra? Or is it all just a storm waiting to happen?
Want to know why you should buy and review WAITING FOR THE STORM (besides the fact it's only $2.99, which is about the price of a cup of coffee)?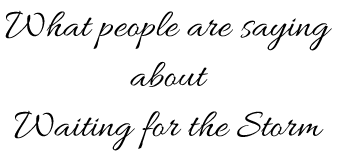 "Waiting For The Storm is a beautiful story. It has the right mix of humor and life and love. By the time you reach the end, you're just swelling with this unimaginable joy. Marie Landry made me fall in love with yet another story of hers. If you want a compelling and sweet contemporary read, I say go for this story. It is brilliant and you WILL enjoy it. A LOT." ~ Jessica from Thoughts at One in the Morning
"I read an early version of this as a beta reader for Marie, and from that alone, I can say it's her BEST work to date. Everyone prepare for an incredibly poignant, sweet, heart-melting story! Marie knows how to write swoon-worthy boys for sure, and I can't wait to get my hands on the final version of WAITING FOR THE STORM!" ~ early review on GoodReads from Molli of Once Upon a Prologue
"Have you ever had one of those books where you wouldn't change a single thing about it because it was just that good? Well, this novel is no exception and should be added to everyone's "to-read" list immediately. This book had no flaws, and I can't stress that enough. The characters were real, raw, and wonderfully written; and the plot was extraordinary and flowed very nicely...there was never a dull moment. Ms. Landry's writing is beautiful and perfect." ~ Wendy, GoodReads reviewer
"Waiting for the Storm shows Marie's talent for writing amazing, heart-warming stories with beautiful, believable characters you can't help but love. This book was emotionally gripping with a satisfying ending to a wonderful tale. I enjoyed every moment!" ~ Sharon from Obsession With Books
"Beautiful writing, memorable characters, and a well told story blend together to create something truly special. Waiting For The Storm has everything I love most about contemporary YA and more. I can't recommend this highly enough." ~ Kathy from I Write, I Read, I Review
"Powerful, emotional, moving, and unforgettable! Definitely the best book I've read in a long time!" ~ Jaimie Admans, author of Kismetology and Afterlife Academy
Buy WAITING FOR THE STORM:

Because this is a fan appreciation giveaway as well as a cry for help of sorts for WAITING FOR THE STORM, there is a mandatory entry to review the book. Once you've done that, there are other ways to enter, including daily entries to tweet and share on Facebook.
Only Rafflecopter entries count. Please don't leave your email address or any other personal information in the comments. All entries will be verified so please be honest!

Open internationally as long as you can accept Amazon US gift cards and PayPal cash (or if you choose the Book Depository option instead of PayPal cash, be sure that TBD ships to your country)

Must be 16 or older to enter, or have parental permission
I would love full-length reviews but I understand not everyone entering will be book bloggers who are used to writing long reviews. Amazon only requires something like 20 words for a review, so if you can't write a full length review, you can write whether you liked the book or not and what you did or didn't like about it.
Please note that reviews DO NOT have to be positive to count in this giveaway. I want reviews that are 100% honest, whether you loved the book or hated it.
a Rafflecopter giveaway

As part of the Fan Appreciation Event I've marked BLUE SKY DAYS down to 99 cents.
As of the time of posting this, the price has only been reduced on Amazon and Smashwords, but it should be available everywhere for 99 cents soon. If you don't want to wait, you can buy the book in any format on Smashwords.
An author would be nothing without the people who read their books, and I
am so incredibly grateful for your support. It's because of you guys that I keep writing and publishing books. I hope to have something new for you all very soon!