I got this idea from the amazingly wonderful Jessica from Thoughts at One in the Morning. Every Thursday, I'll be posting an update on my reading, writing, what's going on at the blog, and anything else I think should be mentioned.
This post is going up about 15 hours later than usual, so I'm going to get right to it!
In August, I read 13 books - a record for me - but so far in September I've only read three books and it's already almost halfway through the month - gah! I've had so much going on between revisions and the cover reveal and getting my book of short stories ready that my reading time has been cut short. Hopefully I can catch up the rest of the month.
I didn't post a single review this week - oops! I've got somewhere between 12 and 15 reviews to post. Maybe I should take a little blogging hiatus and just schedule a week's worth of reviews? Hmmm....
I participated in the Written Confessions blog hop hosted by my friend and fellow author Patricia Lynne. I confessed something that most people don't know about me, and I was actually kind of happy that I was able to shock a few people! *insert evil laugh here*
For week 2 of Music Monday, I talked about my love of Phantom of the Opera, and how the lyrics to The Music of the Night can apply to writing. Two people participated this week - this meme might take off yet! ;-) Oh, and by the way, I finally bought my own copy of Phantom for $5 at HMV! No more trekking to the library every time I need a Phantom fix.
Not much to report here. Every week I say I'll have Undressed ready to publish, but I keep putting it off. I really need to just do it, especially since I have the cover done. I'm also hoping to start revisions on book #3 soon. It's been talking to me a lot lately, and since there's not much I can do with The Game Changer while it's with beta readers, I might as well start revisions for #3 since I miss writing and it's driving me nuts not to be writing.
I signed up for my first 2013 reading challenge. How on earth is it time for this already?! I signed up for an obscene amount of challenges in 2012 and I keep thinking I should check my progress to see how I'm doing. Next year I'll do better at keeping track.
To celebrate the cover reveal of The Game Changer, I've reduced the price of Blue Sky Days through Friday. You can get it on Amazon.com, Amazon UK, or Smashwords (use the code

AE43E if you're getting it from Smashwords).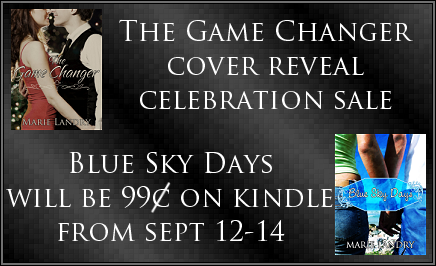 I started a Pinterest board for The Game Changer. Want to see who I'd cast in the roles of my main characters? I'll be adding a few music videos and pictures of the setting soon, too!
Jessica from Thoughts at One in the Morning shared the final post in her amazing self-publishing series.
I love this post on Victoria Schwab's (author of The Near Witch and The Archived) blog about relationships in books.
30 Day Books has a great post from indie authors about the one thing they do to increase sales.
And finally...The Game Changer comes out two months from today - EEP! And OMG! Excuse me while I hyperventilate a little bit. It really hit me yesterday when I was reading all the wonderful comments on Twitter and Facebook and blogs about the cover - I'm publishing a second book. This is my lifelong dream. I'm an author. AN AUTHOR. An author with one published book, another one on the way, another due to come out early next year, and two in the works. It's kind of mind-boggling. And pretty freaking amazing. I'm so grateful to everyone who's helped me get here.
So, those are all my updates. What's new with you this week? What are you reading, writing, and blogging about? My other blog has sort of been falling by the wayside lately, but I have a ton of photographs to post, so hopefully I can do that this week. I really need a personal assistant...or a clone...