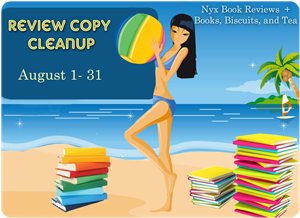 After my month-long Canadian Spotlight Month and reading mostly books by Canadian authors, I'm behind in my review books, so I thought I'd sign up for round two of Review Copy Cleanup hosted by Vicky at Books, Biscuits, and Tea, and Celine from Nyx Book Reviews.
I've also signed up for NetGalley Knockout hosted by Goldilox and the Three Weres. I figured this would be extra incentive to get those NetGalley books read since I'm so slow with ebooks!
The books I currently have for review:
Kissing Shakespeare by Pamela Mingle (from NetGalley)
Meant to Be by Lauren Morrill
(from NetGalley)
Love and Other Perishable Items by Lauren Buzo
(from NetGalley)
Velveteen by Daniel Marks
(from NetGalley)
Cicada by Belle Whittington
(from the author)
Audrey's Guide to Witchcraft by Jody Gerhman
(from the author)
So Damn Lucky by Deborah Coonts
(from the publisher)
I highly doubt I'll get all these read since all but one are ebooks and I have to read ebooks on the computer which is a huge pain in the butt, and also the reason it takes me so long to read review books. I'll do my best! I'd really like to get caught up, which is (obviously) why I decided to participate in both these events. Thanks to the lovely hosts for doing this!
Are you participating? Let me know and we can cheer each other on!